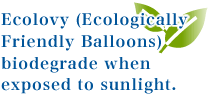 Ecolovy are composed of materials that, when exposed to various elements such as water, carbon dioxide gas, biomass (plant matter used as biofuel), safely decompose into Earth-friendly materials.
Amongst environmentally friendly balloons, Ecolovy are the most frequently used in the world for releasing into the air.



Opening Ceremony of the 1998 Nagano Olympic Games.