Ecolovy, renowned for its dove shaped environmentally friendly balloons, have delighted those who have had them at weddings, parties, other events and ceremonies.

In the past, Ecolovy used Japanese traditional paper to make previous balloon models, Ecolovy now uses newer, improved biodegradable materials in the production of its newer models to make the balloons even more Earth friendly.


Ecolovy Apollo Series Balloons
Dove

Heart Shaped Balloons

Round Shaped Balloons

Width 700mm x Height 420mm
(27.56 in x 16.54 in)
(Colors: White)
Price: us$3.10

Width 320mm x Height 350mm
(12.60 in x 13.78 in)
(Colors: Pink, White)
Price: us$1.80


Width 300mm x Height 300mm
(11.81 in x 11.81 in)
(Colors: Red, Blue, Yellow, Green, White)
Price: us$1.70

Star Shaped Balloons

Angel

Width 450mm x Height 450mm (17.72 in x 17.72 in)
(Colors: Red, Blue, Yellow, Green, White)
Price: us$1.80

Width 650mm x Height 370mm (26.59 in x 14.57 in)
(Colors: White)
Price: us$3.20
We also make custom shaped balloons.
We will give you a quote on your custom order after thoroughly discussing what your specific needs are. Feel free to consult us with any inquiries you may have.
Custom orders usually require more than 2 months to fulfill, so please plan your order well in advance.
Have a Custom Print on any Apollo Series Balloon.Ask us about custom price quotes and delivery dates.
1. Gravure Print
The balloon is made after the custom image is created and applied.
Print Quantity: Recommended best for orders of more than 2000
Print Information: Full color; pictures or company logos, any image is possible.

2. Silk Screen Print
Silk Screen Prints are printed on balloons that have already been made. Only applicable to Round, Star-shaped, and Face-shaped Balloons.
Print Quantity: Smaller Orders (Less than 2000 balloons)
Print Information: Print is limited to 1 color. We do not make multiple color Silk Screen Prints.

3. Stamp Prints
A rubber ink stamp can be applied to larger balloons (Dove, Butterfly, Angel)
Helium for Balloons
The Helium Gas Tank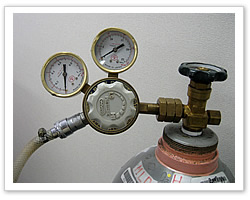 Because the helium inside the tanks is under very high pressure, we recommend you use a pressure regulator when inflating Ecolovy balloons. Not doing so may cause the helium to escape the tank at high pressure resulting in damage to the balloon.
Recommended gauge pressure: 0.1Mpa, or 1kgf/cm²
Flower Seeds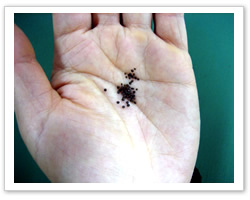 A feature that only biodegradable balloons are capable of! You can put flower seeds into your Ecolovy balloon and release them into the air. Our company uses "Babies' Breath," flower seeds because they are small and their round shape will not damage the balloon.
If you would like to put your own flower seeds into Ecolovy balloons, please contact us since we must take into account the size of the seeds and their shape as they may potentially damage the balloon. Please contact us for more information.