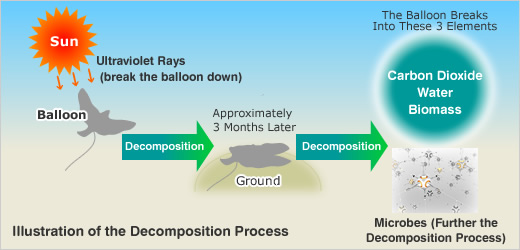 A Detailed Explanation of the Biodegradable Materials Ecolovy Ballons Are Made Of
When TDPA (Totally Degradable Plastic Additives) is added to regular PE,PP (Polyolefin, the material plastic bags are made from), it becomes new material that breaks down when exposed to ultraviolet rays, heat, or physical stress until, finally, it decomposes into water, carbon dioxide, and biomass. However, this material is very unlike the plastic bags you would find in a supermarket. This material is registered under a United States patent. Ecolovy uses this very same material.




Breakdown of the Decomposition Process
The decomposition process will not take place if the plastic film, with a molecular mass of 300,000, is void of any of the elements required for it to break down.
The decomposition process will take place once it is exposed to any combination of ultraviolet light, heat, physical stress.
After the balloon's molecular mass has reached lower than 300,000 it will undertake the hydrolysis stage of the decomposition process.
In the end, the balloon will break down into water, carbon dioxide, and biomass, leaving no trace that it was ever a balloon.
The decomposition process will quicken dramatically once microbes begin to decompose the balloon as well.
Of course, this decomposition process as well as the process of producing TDPA do not negatively affect the environment.

Additional Information
The process of mixing TDPA and PE,PP together to create a biodegradable plastic was discovered by Exxon Chemical Co., Fina Oil and Chemical Co., and Packing Industries Research Association (PIRA). In addition, PIRA deemed the new plastic to be safe for use with food in the United Kingdom, the European Union, and the United States.